Calafate is a new way for designers, developers and users to experience WordPress. A Portfolio website reimagined to highlight your most important content.
In the same way that brave explorers carve pathways to new ways of living, thinking outside of the square and pushing the boundaries of human experience, your work also deserves new & original ways to communicate with your audience.
Introducing Calafate. WordPress, but different.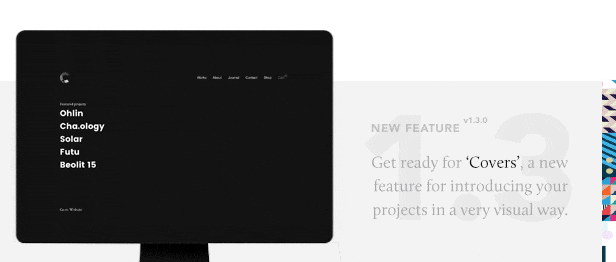 Dedicated to a lifetime of updates and evolution, 'Covers' is a new feature added in v1.3.0. Created to introduce your latest project, featured works or highlight unique products in your online shop, it is a very easy to use tool that will generates a beautifully animated full-page visual, to dazzle your visitors on arrival.
We have created this fresh WordPress canvas with a focus on content first, and built the tools to help you create something really different and imaginative – you just need to add your best content to bring it to life.
Take it for a test drive now, and see for yourself.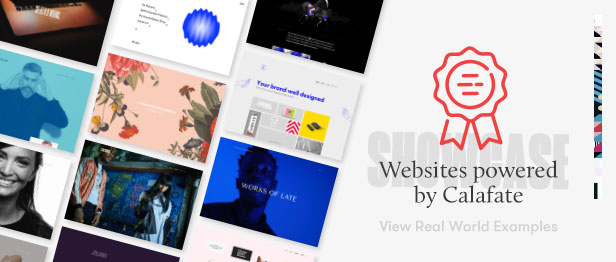 Calafate comes complete with it's own custom page builder, making sure that your website won't be bloated with unnecessary code, and that your markup will be SEO friendly. The builder generates the cleanest markup necessary, without messy elements and extraneous code that other composers can add to your pages slowing your site down.
Calafate focuses on what really matters, creativity tools combined with your best content.
With a few clicks you will be able to generate complex layouts simply, while working with many different creative tools.
You can play with normal page elements in many different ways, use color schemes in each page and combine them with fade actions creating really interesting experiences, the combinations and possibilities are almost endless.
Stand out from the crowd with Calafate for WordPress.
You will be amazed with by the speed of the technology behind Calafate, making your pages load really fast, thanks to the advanced AJAX features.
You'll also receive many easy to use tools that are included to help you create awesome project presentations. Over the years we have worked with different creative folks and we know the tools and features you seek to unleash your creative best.
Your website – from bland to amazing – in minutes, this is Calafate.








Complete features list
Responsive, of course
AJAX driven theme. You can also disable this feature.
Two different navigations. A regular one and a compact one.
Unique & lightweight custom page builder. You can create unique and very creative layouts to display your projects in a very easy way.
WordPress Customizer ready
Packery, Isotope & masonry layouts
Regular pagination
Cool filtering method for your project items
Multiple portfolio pages
Two different blog styles – 'Minimal' & 'Magazine' (notice that only one style is possible, different from the demo)
Custom fullscreen backgrounds for each project and section. With unique features.
Hero sliders and self hosted videos
Google fonts library
Select the portfolio columns and four different layouts kinds. Funcky, Clean, Boring & Text.
Fully customizable portfolio pages. Color schemes and heroes.
Adjust the sizes for your text, fonts, color. Combinations are unlimited.
Localization ready
RTL support
WooCommerce integration (e-commerce/shop features) support. Unique experience.
iOS/Mobile Ready
Touch gestures and keyboard support for sliders
Portfolio & Woocommerce XML to import dummy content (placeholder images) to have an easy and fast start with your new theme.